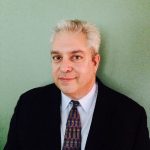 Stavros Iatridis
President & CEO
Vestmo Global Research, Inc.
Mr. Iatridis has over 30 years of institutional investment experience as a global multi-asset portfolio manager with leading asset management and hedge fund companies.
He founded Vestmo Global Research to specialize in developing a digital investment strategies for a wide range of investors and countries. He developed a series of digital strategies designed to achieve excess of benchmark returns with less risk across many asset markets and cycles. The strategies employ a groundbreaking digital rule based process he developed over his investment career by investing, studying his peers, reviewing leading academic and industry papers and collaborating with various industry experts. The approach does not rely on traditional investment organizational flowcharts but gathers, analyzes and manages asset markets a using rules based process to allow for faster, cheaper and more accurate decisions.
Vestmo currently offers subscription based investment research and strategies as well as an outsource CIO and asset allocation service. Vestmo clients include leading asset managers, family offices, and hedge funds across a wide range of today's global liquid asset markets.
Prior to creating Vestmo, Mr. Iatridis co-founded Apogee Global Advisors, an investment firm specializing in hard asset portfolios. Before Apogee, Mr. Iatridis worked alongside George Noble at Noble Partners as a global long/short equity portfolio manager. Prior to joining Noble Partners, he was a global equity portfolio manager with Odyssey Partners, a leading $2 billion dollar multi-strategy alternative investment firm based in New York. Prior to that, Mr. Iatridis was a partner and international equity/fixed income portfolio manager with Oechsle International Advisors, a $6 billion international asset manager, working in both the Tokyo and Boston offices. Mr. Iatridis began his career as an international research analyst at Putnam Investment Company in Boston.
Mr. Iatridis earned an MBA degree in International Business from George Washington University and a BA in Philosophy & Economics from Boston College.